Outbuildings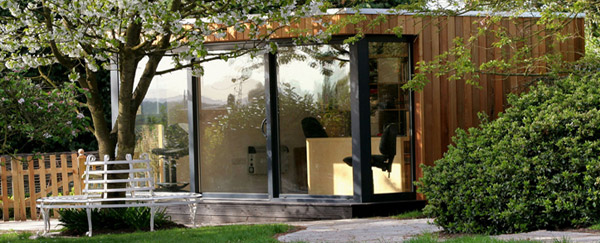 Not enough room in your house for an office or studio. Our expert garden design and installation team can convert your unsed garden space to an office or building in your grounds to suit your needs. These buildings range from a small art studio to a three person offices and will satisfy anyone looking for that extra room.
If you want to take an electric supply to another place, like an outbuilding or garage, you are definitely into the realms of work that needs to be certified. The supply needs to be taken from its own point on the consumer unit ('fuse box'). Where the cable goes outside it should be pinned to a wall or buried underground in armoured cable.
If the cable itself isn't armoured it should be in armoured conduit. You can put the cable overhead but it needs to be at least three and a half metres up, something that's not always not practical.
Then at the other end the electric supply needs to be terminated correctly, probably in a small consumer unit which then distributes power to lighting and power circuits accordingly.
Lighting For Your Garden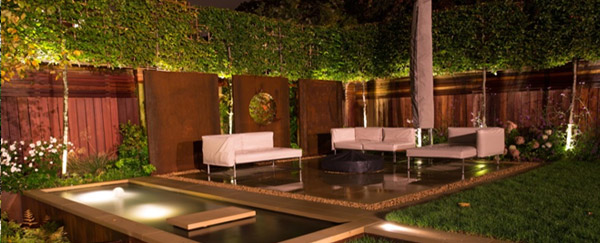 Illuminate, create drama and be inspired by having a Watt Electrical Services Ltd garden lighting system in your garden.
As shadows lengthen and the intense heat of summer days dissolves into balmy nights, your garden becomes a cool, tranquil place in which to unwind or relax with friends. Garden lighting helps to prolong this time by transforming your outdoor space into an extra 'room' that you can go on using after darkness falls.
Even in winter you can continue seeing the garden from the comfort of your home. With the flick of a switch or a remote control, you can bring your garden to life using dramatic lighting effects.
Plants and architectural features will take on a magical quality, normally unnoticed during the day, adding a totally new dimension to your garden.
You obviously want the lighting in your garden to be safe & long-lasting whilst providing real value for money. Therefore, for the safety of you and your family we recommend you never go for the cheapest option as this could cause issues with your lighting circuits tripping. We feel a medium grade of light fitting or higher is the only way to guarantee your lighting system to work for many years to come.
NICEIC has been assessing the technical competence of electricians for over 50 years. Our aim is to protect everyone who uses electricity from unsafe electrical installations in their homes, places of work and elsewhere. To achieve this, we maintain a register of qualified, competent electricians.

We look at a representative sample of the contractor's work, their premises, documentation, equipment, and the competence of their key supervisory staff. Once contractors become registered with NICEIC, they are re-assessed on a regular basis to ensure high standards.

Visit the NICEIC website for more information.
Latest Projects
Some of the electrical installations we have undertaken recently.
To view more, please see our photo gallery section.